Bachmann Twist to mediaport o kompaktowej budowie. Zdobywca Red Dot Product Design Award Winner 2012, prestiżowej nagrody przyznawanej w dziedzinie designu. Montowany najczęściej w blatach biurowych, roboczych i kuchennych. Twist szczególnie doceniany jest w miejscach, gdzie mamy do dyspozycji niewielką głębokość pod blatem. Głębokość zabudowy to tylko 40mm, co umożliwia również montaż nad szufladą. Obracana obudowa umożliwia zakrycie gniazd w momencie kiedy nie są używane, dzięki temu chroni gniazda przed kurzem lub zalaniem wodą.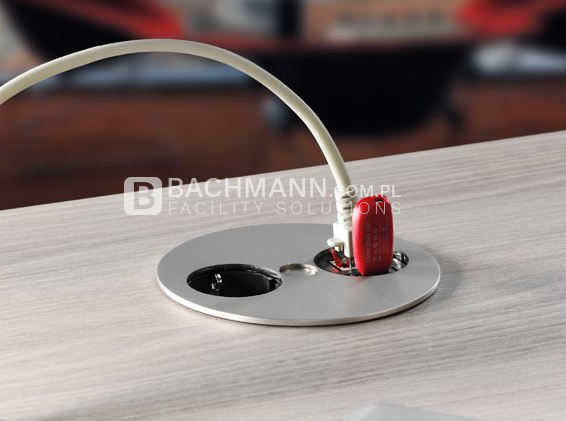 Rodzaje wykończenia obudowy Bachmann Twist:
- stalowa (konfiguracje wyposażone wyłącznie w gniazda zasilające 230V)
- czarna
- biała
- chromowana (konfiguracje wyposażone w gniazdo zasilające i gniazda sieciowe)
Mediaport Twist przystosowany jest do montażu w blatach o grubości 20-40mm.
Całkowita wysokość mediaportu: 42,5mm
Głebokość montażu: 40mm
Średnica otworu montażowego: 105mm