AH Meyer Turn Comfort to najwyższej jakości mediaporty półobrotowe. Wpuszczane w blat stołu konferencyjnego, umożliwiają łatwy dostęp do gniazd ze wszystkich stron stołu. Montowane najczęściej w biurach, salach konferencyjnych, hotelach, meblach szkolnych i laboratoryjnych, jak również w blatach kuchennych.
Obudowa wykonana jest z wysokiej jakości aluminium. Po zamknięciu nie wystaje ponad powierzchnię blatu, co zapewnia estetyczny wygląd podczas, kiedy urządzenie nie jest używane.
Listwę obracamy poprzez naciśnięcie przycisku, pozycję końcową obrotu osiągamy ręcznie (zobacz film w opisie produktu). Długość listwy zależna jest od ilości gniazd. Standardowo możemy wyposażyć ją w maksymalnie 6 modułów zawierających dowolne gniazda zasilające i multimedialne (na specjalne zamówienie możliwość produkcji listwy zawierającej do 10 modułów).
Mediaporty Turn Comfort dedykowane są do blatów o minimalnej grubości 10mm. Głębokość zabudowy to 92mm.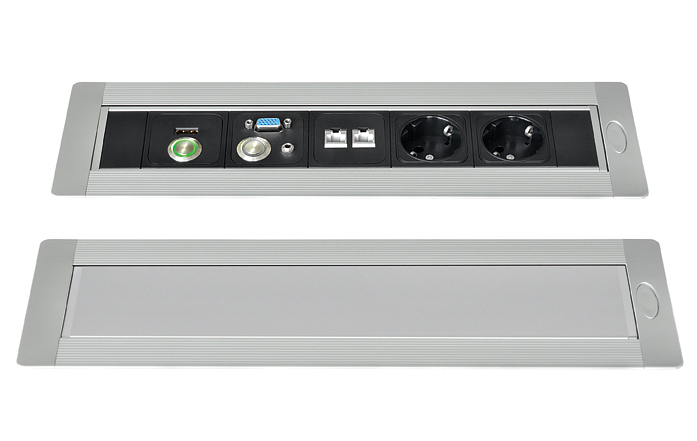 Wymiary mediaportów serii Turn Comfort:
1) Obudowa 3-modułowa:
- wymiary obudowy: 267,6 x 109 mm
- wymiary otworu montażowego: 260 x 101,5 mm
2) Obudowa 4-modułowa:
- wymiary obudowy: 320,6 x 109 mm
- wymiary otworu montażowego: 313 x 101,5 mm
3) Obudowa 5-modułowa:
- wymiary obudowy: 373,6 x 109 mm
- wymiary otworu montażowego: 366 x 101,5 mm
4) Obudowa 6-modułowa:
- wymiary obudowy: 426,6 x 109 mm
- wymiary otworu montażowego: 419 x 101,5 mm