Bachmann Power Frame Cover to wyjątkowo atrakcyjnie wyglądający mediaport otwierany, dedykowany do blatów kuchennych, biurowych oraz konferencyjnych.
Mediaport możemy dowolnie konfigurować według indywidualnych potrzeb. Ze względu na niewielką przestrzeń między listą a klapką obudowy nie ma możliwości zastosowania konfiguracji uwzglęniających wypukłe moduły tj. VGA, DVI-I.
Obudowa mediaportu wykonana jest z aluminium. Pokrywa otwiera się na równo z powierzchną blatu, co zdecydowanie ułatwia dostęp do gniazd ze wszystkich stron stołu.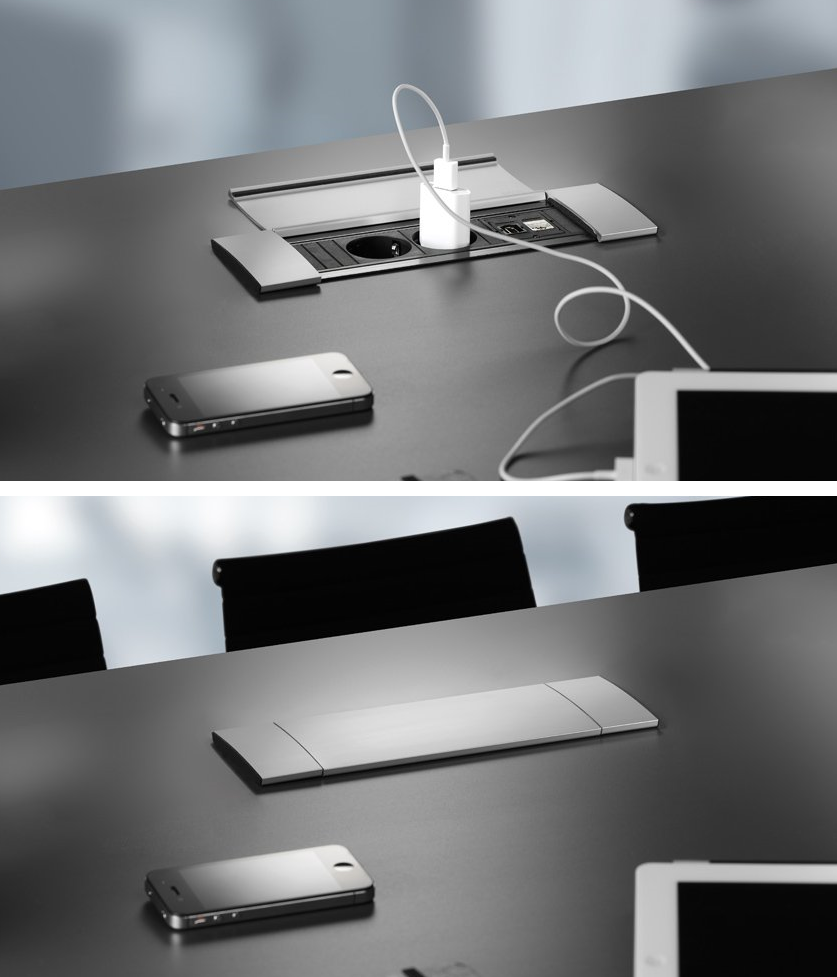 Listwę możemy wyposażyć w 3, 4 lub 6 płaskich modułów.
Dostępne warianty wykończenia obudowy:
- aluminium
- aluminium lakierowane na kolor biały RAL9010 (tylko obudowa 3-modułowa)
- aluminium lakierowane na kolor inox (tylko obudowa 3-modułowa)
Wysokość zamkniętej obudowy wystającej nad powierzchnią blatu to 8mm.
Wymiary mediaportów Bachmann POWER FRAME COVER:
Obudowa 3-modułowa
- wymiary całkowite: 255 x 87 mm
- wymiary montażowe: 225 x 60 mm
Obudowa 4-modułowa
- wymiary całkowite: 298 x 87 mm
- wymiary montażowe: 267,5 x 60 mm
Obudowa 6-modułowa
- wymiary całkowite: 382 x 87 mm
- wymiary montażowe: 352 x 60 mm