Mediaport Bachmann Power Frame jest kompaktowym rozwiązaniem, stosowanym najczęściej w blatach kuchennych, biurowych oraz stołach konferencyjnych i roboczych. Mediaport możemy dowolnie konfigurować według indywidualnych potrzeb.
Listwa zlicowana na równo z blatem umożliwia łatwy dostęp do gniazd ze wszystkich stron stołu. Jest to duże udogodnienie szczególnie w przypadku stołów konferencyjnych.
Minimalna grubość blatu to 10mm.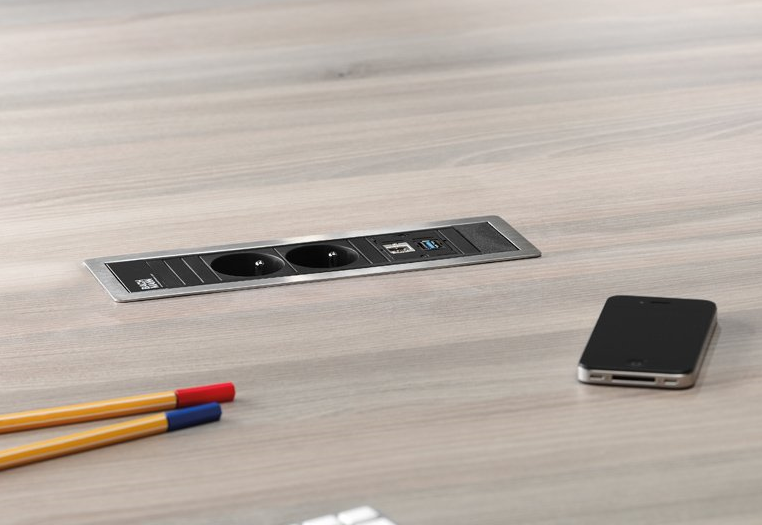 Dostępne warianty ramki:
- 3-modułowa - kolory: srebrno-szary, czarny, biały, stalowy
- 4-modułowa - kolory: srebrno-szary, czarny
- 6-modułowa - kolory: czarny

Wymiary mediaportów Bachmann POWER FRAME:
Ramka 3-modułowa
- wymiary całkowite: 241 x 73 mm
- wymiary montażowe: 225 x 60 mm
Ramka 4-modułowa
- wymiary całkowite: 283,5 x 73 mm
- wymiary montażowe: 267,5 x 60 mm
Ramka 6-modułowa
- wymiary całkowite: 268,5 x 73 mm
- wymiary montażowe: 352,5 x 60 mm
Głębokość listwy: 36mm
Głębokość listwy (z kablami): 70mm