AH Meyer Line to wysokiej jakości mediaporty wpuszczane w blat, umożliwiające łatwy dostęp do gniazd ze wszystkich stron stołu. Mediaporty serii Line montowane są najczęściej w biurach, salach konferencyjnych, hotelach, meblach szkolnych i laboratoryjnych, jak również w blatach kuchennych.
Ramki wykonane są z wysokiej jakości aluminium. Wypukła forma ramki została specjalnie zaprojektowana w celu zabezpieczenia gniazd podczas wylania wody na blat.
Listwę standardowo możemy wyposażyć w maksymalnie 6 modułów zawierających dowolne gniazda zasilające i multimedialne (na specjalne zamówienie możliwość produkcji listwy zawierającej do 10 modułów). Wyposażenie listwy zależy od indywidulanych potrzeb klienta.
Łatwy montaż listwy pozwala na zastosowanie mediaportów we wszystkich typach blatów, również w blatach szklanych. Mediaporty serii Line dedykowane są do blatów o minimalnej grubości 10mm. Głębokość zabudowy to 60mm.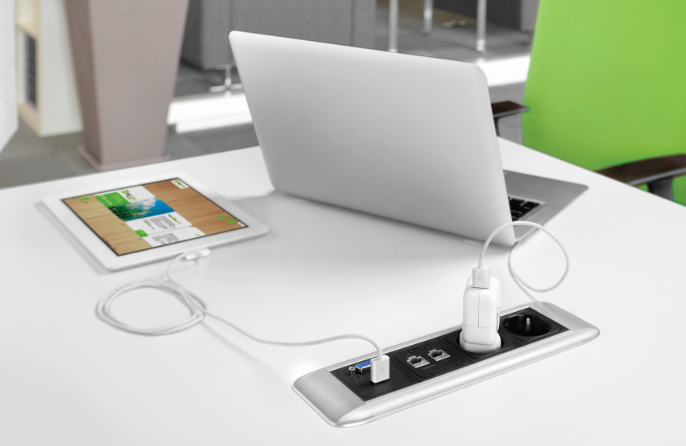 Wymiary mediaportów serii AH Meyer Line:
1) Ramka 3-modułowa:
- wymiary ramki: 221,2 x 84 mm
- wymiary otworu montażowego: 193,5 x 77,5 mm
2) Ramka 4-modułowa:
- wymiary ramki: 274,2 x 84 mm
- wymiary otworu montażowego: 246,5 x 77,5 mm
3) Ramka 5-modułowa:
- wymiary ramki: 327,2 x 84 mm
- wymiary otworu montażowego: 299,5 x 77,5 mm
4) Ramka 6-modułowa:
- wymiary ramki: 380,2 x 84 mm
- wymiary otworu montażowego: 352,5 x 77,5 mm