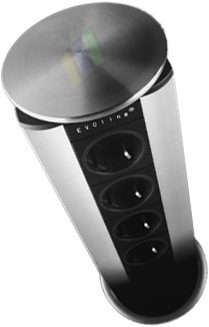 EVOline Port firmy Schulte Elektrotechnik to mediaport stołowy, wysuwany z blatu, wykonany z wysokiej jakości materiałów. Szeroki wybór wariantów wykonania, oraz możliwość indywidualnej konfiguracji. Mediaporty Schulte EVOline zostały objęte międzynarodowymi patentami. Zostały uhonorowane nagrodą "Reddot award" potwierdzającą wysoki poziom funkcjonalności i elegancki wygląd.
Wieko Porta (standardowe to srebrne oraz czarne lakierowane). 

Srebrny

Czarny lakier

Mosiądz lakier

Stal szalchetna

Podświetlany

Chrom

Pozłacany
Port może być wykonany w pięciu wariantach. Podstawowy to srebrny. 

Srebrny

Czarny

Mosiądz

Chrom

Pozłacany

4 wersje podświetlenia
EVOline Port w wersji "Individual" mozna wyposażyć w moduły: 230V, RJ45, VGA, Jack, USB, HDMI, LAN Switch, DVI-A, DVI-D, RCA (chinch), S-Video, XRC Buchse, D-Sub, TV, itd... Pełną listę można znaleźć w katalogu Schulte Evoline.