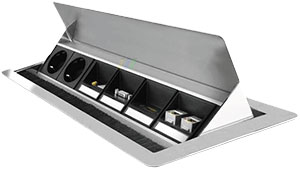 EVOline Flip-Top firmy Schulte Elektrotechnik to mediaport stołowy, otwierany, wykonany z wysokiej jakości stali szlachetnej. Mediaporty EVOline FlipTop stosowane są najczęściej w biurach, salach konferencyjnych, salonach sprzedaży, hotelach a także jako gniazda kuchenne. Mediaporty Schulte EVOline zostały objęte międzynarodowymi patentami. Zostały uhonorowane nagrodą "Reddot award" potwierdzającą wysoki poziom funkcjonalności i elegancki wygląd.
Flip top może być wykonany w trzech kolorach (standardowe to stal szczotkowana). 

Stal szczotkowana

Czarny lakier

Biały lakier
EVOline FlipTop w wersji "Individual" mozna wyposażyć w moduły: 230V, RJ45, VGA, Jack, USB, HDMI, LAN Switch, DVI-A, DVI-D, RCA (chinch), S-Video, XRC Buchse, D-Sub, TV, itd... Pełną listę można znaleźć w katalogu Schulte Evoline.